Today we covered the following:
Student Engagement – Michael Frels

​

Zoom Recordings –Lisa Hughes

​

Open House Notes– Lisa Hughes
**Sidenote – I turned on the captions when Michael was presenting, but it didn't reflect in the recording.  I was able to see them on my screen when he was presenting.
If you would like to enable captions in Zoom see below.
Go to your account settings in Zoom — (In Meeting – Advanced) to enable Closed Captioning
Create a meeting and launch the Zoom App.  You will see an option for "Live Transcript CC" on your tool bar.
3.  Click the button and "Enable Auto-Transcription"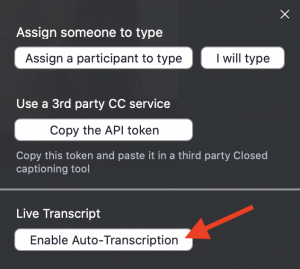 Do you have something to share at an upcoming EdTech Briefing?  Scan the QR Code and let me know.  I will contact you this week.